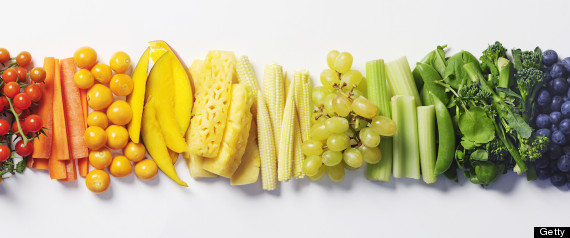 I was reading
The Balanced Life
blog today and was lead to a post that Robin (the author -we are total besties now, on a first name basis) wrote about creating a Health Vision for yourself. Her post got me thinking about how life throws things at you... choices, blessings, pain, opportunities, etc.
Some people are "planners" by nature. They know where they want to go to school, what age they want to get married, what kind of career they want to have, how many kids they want to have/or not have, what their home is going to look like, etc. And then there are other people who kind of just fly by the seat of their pants going (it seems) wherever the wind takes them. Doing a little bit of this, and a little bit of that. They don't hold on to things too tightly because they know that everything has a season... that everything changes.
People with long term vision verses those (of us) with short term vision. There are pros and cons to both ways of thinking. The "planner" may be devastated when something doesn't work out quite the way they planned... but the "drifter" may let too much time get away from them without doing much of anything, because they are afraid that change will take away/move/redirect anything they set their heart on.
There is no doubt about it... time passes whether we want it to or not. How many of you (whether you will admit it or not) had a New Year's Resolution about a month and a half ago? How many of you had one that related to your health? Work out more? Eat healthier? Stop smoking? Build stronger relationships? Take time to relax? Spend more time with your kids/partner than your laptop or phone? Lose weight? Hmmmmm... I bet a lot of you did. I did. How many of you could straight-up Ninja kick yourself in the teeth for letting 6 weeks go by.... almost 50 days into a new year and not changing a damn thing? That's 6 weeks of YOUR life you'll never get back. It SUUUUCKS to think about, but seriously. Damn.
Well... here is an idea. Create a Health Vision for yourself. NOT a traditional "vision board" where you cut out pictures of photoshopped models in bikinis!!! Not a Pinterest board full of recipes you never make and workouts you never do. A Health Vision.
Set the vision for 5 years into the future.
Write in the present tense.
Be specific: include how you feel, what you eat, what you do for exercise and any other details that are important to your idea of a healthy, confident, capable woman.
Print/Write it out and post in a place where you will see it regularly.
Read it out loud on a regular basis.
Quiet your rational side and use your imagination. Dream up exactly who you want to be and don't be shy about it! This is for you and your eyes only.
I'm not saying that doing this will automatically change your life or get you up off your ass... but there is something really powerful about intentions... goals... visualization. Maybe you want a new job, a new love, kids, a new career. Maybe you want a new lifestyle. Think of your Health Vision a movie... of your life... set 5 years in the future. What kind of leading lady do you want to be?
I am going to do one tonight and I am going to post it on my bathroom mirror. I haven't perfected it, but my draft would go a little something like this...
I am 38 years old (remember... 5 years into the future). I am in love. I am in love with my Manfriend, and I am in love with myself. I practice yoga and Pilates. I teach Pilates. I am educated, formally and self-taught in the field of nutrition and holistic healing. I no longer work in Corporate America. I help people become a happier and healthier. I write. I volunteer. I take pictures. I have deep, strong relationships with my family and my girlfriends. I travel. I eat mostly plants. I cook. A lot. I have red wine once in a while, but I am not a "drinker". I have strong faith. I move, create, and volunteer. I support people's dreams and I live out my own. I am 38, almost 39 and I have never felt better or more at home in my own skin.
I'd love to follow up by featuring some of your Health Visions on the blog so we can see where everyone wants to be in 5 years. It would be awesome to read all the different goals and then share them (anonymously if you like). Feel free to e-mail me (ModaFrescaBlog@gmail.com), FB message me, or comment below with your version of a Health Vision (you can include a picture if you'd like to... but no fake bikini magazine bitches allowed).